Over recent years, the third Monday in January has become infamously known as 'Blue Monday'. Although the label 'Blue Monday' originated from a Sky Travel PR campaign in 2005, there are certain triggers around this time of year that could lead to people feeling a little glum.
Luckily, Optimum Medical has your back. We've gathered a few helpful resources below and supportive tips to help you (and us) squash those Monday blues once and for all!
New Year's resolutions
Don't be too hard on yourself if you're struggling to get off the starting blocks with your new year's resolutions. Instead of creating resolutions at the end of every year, why not break it down and create them at the start of every month? You'll be more likely to achieve your goals by breaking them down into smaller, more manageable chunks. February – we'll be ready and waiting for you!
Seasonal affective disorder
Seasonal affective disorder (SAD) affects 1 in 3 Brits (Molloy, 2014) and the symptoms can include low mood, irritability and lethargy (NHS, 2018). To help alleviate the symptoms of SAD, it's recommended that individuals try to spend as much time outdoors as possible in natural sunlight (NHS, 2018). On darker days, light therapy can also be used to simulate exposure to sunlight and there's now a big selection of SAD therapy lamps to choose from online.
Stress-relief
It's no secret that for many, December is an expensive month of the year and this can bring its own stresses, but there are many services available where you can speak with an advisor about your financial situation. If you're finding your finances stressful, speak to a professional.
There are plenty of ways to relieve other types of stress whilst on a budget. Click on the following link for 38 different and creative ideas for ways to reduce stress: https://www.mintnotion.com/frugal-living/38-free-ways-relax-reduce-stress/
Try new projects and hobbies
There are lots of new projects and hobbies you can take up without having to leave the front door, which is particularly helpful during winter! From learning a new language to practicing yoga, here is some inspiration to get you started: https://theeverygirl.com/8-indoor-hobbies-to-get-you-through-the-winter/
New year, new me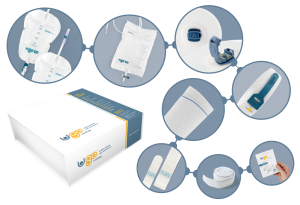 A new year provides a fresh start and a great opportunity to try new things. Are you familiar with all the product choices available in the Ugo Urology range? If not, we'll happily pack up a sample box for you, containing one of each product so you can try them in the comfort of your own home.
To find out more, email enquiries@optimummedical.co.uk or speak to our friendly Customer Care Advisor Charise on 0113 487 3946. We'd love to hear from you!
Molloy, Antonia (2014) Seasonal Affective Disorder – 1 in 3 people suffer from SAD. (Online) Available at: https://www.independent.co.uk/life-style/health-and-families/health-news/seasonal-affective-disorder-1-in-3-people-suffer-from-sad-9814164.html [Accessed: 15th January 2019]
NHS (2018) Seasonal Affective Disorder. (Online) Available at: https://www.nhs.uk/conditions/seasonal-affective-disorder-sad/ [Accessed: 15th January 2019]